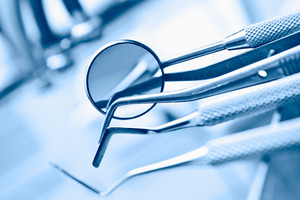 It's been years since you last walked into a dentist's office. Recently, you've decided to change that for the sake of your oral health, so you scheduled a checkup. But since it has been so long since your last visit, you're not sure what will happen. To help ensure you're prepared for your dental appointment, here are 5 things you can expect.
1. Your Dentist Will Ask About Your Medical History
Your oral health and overall health are closely linked. As such, your dentist needs to be familiar with your medical history in order to bring you the best dental care possible. They might ask about any major illnesses you've suffered from or if you're currently taking any type of medication. In many cases, they may take your blood pressure.
2. X-Rays Will Likely Need to Be Taken
X-rays are essential for catching oral health issues that would normally go unseen. Dentists usually take one X-ray a year. But if it has been a long time since your last appointment, then an X-ray will likely be necessary to get an up-to-date picture of the health of your mouth and jawbone. Your dentist can go over your X-rays with you and show you any areas where problems are present.
3. A Thorough Oral Examination Will Be Performed
Naturally, if you haven't seen the dentist in years, then one of the top priorities during your visit will be to check for any problems that might have developed. Your dental team will carefully examine every nook and cranny of your mouth for warning signs that might point to cavities, gum disease, and other oral health problems. They can also screen for signs of oral cancer.
4. Your Teeth and Gums Will Be Cleaned
There's a good chance that quite a bit of plaque and tartar has built up in your mouth since your last visit, so your dentist will need to perform a thorough dental cleaning. It may take longer than normal though, so in certain cases, it might be necessary for your dentist to schedule two appointments: one for an examination and the other for the cleaning.
5. At the End of Your Visit, Your Dentist Will Work with You to Create a Treatment Plan
Depending on what was found during your examination, additional appointments might be necessary. Your dentist will explain exactly what treatments they recommend for protecting your oral health. You'll have an active say in your treatment plan, so don't hesitate to speak up if you have any questions.
About the Author
Dr. H. Douglas Clark III went to the Marquette University School of Dentistry for his Doctor of Dental Surgery. Ever since his graduation, he has been bringing excellent care to patients in Superior at Hill Avenue Dental. He'll always be happy to see you for a checkup and cleaning no matter when your last appointment was. To schedule a consultation with Dr. Clark, visit his website or call (715) 392-5161.