Your First Visit to Your Dentist in Superior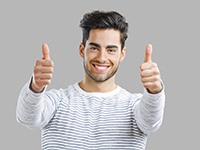 Visiting a new dentist for the first time can be a little nerve wracking if you don't know what to expect. Most first dental visits are the same -- you will share your oral and overall health history, give the details of your dental insurance if you have it, and then have your teeth cleaned and examined. At Hill Avenue Dental, though, we take a more personalized approach when you come see us for the first time. Keep reading to learn what you can expect during your first visit to the dentist Superior loves!
A Little Prep Work Goes a Long Way
After you place a call to schedule your visit with our office, we will share our new patient forms with you. By downloading, printing off, and then bringing these completed forms with you to your dental appointment, you can speed through registration and be relaxing in one of our comfortable examination rooms without any unnecessary time spent waiting.
Our office is in-network with Delta Dental and we also work with CareCredit, the third-party financier that helps you make convenient payments on your dental care. If you benefit from either of these plans or if you would like to find out if you are eligible for CareCredit, be sure to let us know.


Getting to Know You
On the day of your appointment, we will take a little time to get to know you better before we get to work. You will get to meet your hygienist and dentist first, and also share any important information about your oral health during a brief consultation. We will ask you to tell us a little bit about your health history and if there's a special reason you are visiting. Then we can discuss your smile goals -- what would you like to achieve with your smile? General maintenance or something special? We will work these details into your overall treatment plan.
Cleaning and Exam
After we have all your details and feel like we all know each other a little bit better, we can get started on the appointment. Your hygienist will begin by cleaning your teeth and removing plaque and tartar from the surface and around the gums. Once your teeth are clean and we have taken X-rays, your dentist comes in for the checkup. He will perform a tooth-by-tooth examination, looking out for the warning signs of tooth decay, worn dental work, evidence of bruxism, and any other oral health hazards. If issues are present, we will put together a plan to get them fixed ASAP.
Come Visit Hill Avenue Dental!
If you don't have a dentist in Superior that you love visiting, it's because you haven't tried Hill Avenue Dental. We invite you to check out how superior dentistry can change your life this month! Go ahead and contact us to schedule an appointment today.