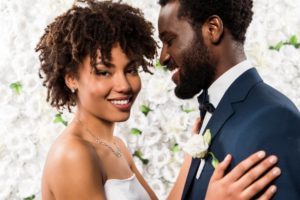 Getting ready for a special event is always exciting. Whether it's a wedding, a family reunion, or even a big job interview, you want to be sure to look your best. While it's natural to begin thinking about purchasing an amazing outfit or having your hair styled, it's important to not forget about your pearly whites! Having a radiant, bright smile with professional teeth whitening makes your face light up and boosts your confidence. However, it's important to plan accordingly so your luminous teeth will be ready in time. Here's what to know about whitening your teeth for your big day!
In-Office & At-Home Teeth Whitening
Did you know professional teeth whitening can brighten your teeth up to eight shades? That can make a significant difference in your appearance! Your dentist can help you achieve this with the following treatments:
In-office whitening: Your dentist will apply safe professional-grade bleaching gel onto your teeth to blast away stubborn stains and discoloration. A special UV light may also be used to speed up the process and deeply penetrate your enamel. You can expect a brighter smile in as little as a one-hour dental appointment!
At-home whitening: If you are looking for the convenience of whiter teeth while in the comfort of your own home, this is the option for you. You will be given custom-made trays, along with a special bleaching gel with a high concentration of peroxide. You will wear them for a few hours a day and within a few weeks, you will have the same results as you would with an in-office treatment.
When Should You Start Whitening Treatment?
Both in-practice and take-home whitening procedures are effective in giving you the radiant smile you desire. However, they do have different timeframes. As stated above, if you whiten your teeth at home, it will usually take two weeks to complete. This will require a bit more planning on your part based on the date of your special event. On the other hand, an in-office teeth whitening can be done just a few days before you need it since it brightens your enamel in about an hour!
How to Maintain Your Bright Smile
You will want to keep your pearly whites gleaming after your treatment. They may be more vulnerable to discoloration immediately after professional whitening so it will be best to avoid dark-colored beverages and foods like red wine, coffee, and blueberries. A straw is always helpful to minimize contact with more pigmented liquids. Be sure to rinse your mouth after enjoying a meal to wash away food debris that is stuck to your teeth. And of course, keep up with a consistent oral hygiene routine of brushing twice a day and flossing at least once a day.
You want to look and feel your best for your upcoming event. By investing in your smile with professional teeth whitening—while planning accordingly–you can flash those pearly whites confidently and happily!
About the Author
Dr. H. Douglas Clark III and his team at Hill Avenue Dental are eager to achieve your best smile! With almost 20 years of experience, he provides a full range of dental services, including professional teeth whitening. Dr. Clark offers both in-house and at-home whitening for your convenience. With a 5-star review on Google, he can help you get the bright smile you want! To schedule an appointment, contact him through his website or call (715) 392-5161.