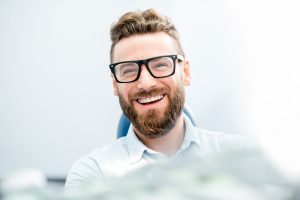 April has been designated as National Oral Cancer Awareness Month, and dentists around the country are encouraging the general public to make preventive care a priority. As you continue reading, learn about the rising incidences of oral cancer and why it's of the utmost importance to undergo a screening every six months.
The Growing Problem of Oral Cancer
This year alone, it's forecasted that 50,000 people will be diagnosed with oral cancer, and up to 10,000 of those cases will be fatal. The disease usually originates in the flat cells that cover the mouth, tongue and lips, and its development can be encouraged by the following:
Tobacco use
Over-exposure to the sun
Heavy alcohol consumption
A high consumption of sugar
A diet high in processed ingredients
Along with eliminating these possible contributors, it's critical to visit your dentist for preventive care, which includes an oral cancer screening.
How an Oral Cancer Screening Works
A typical screening will be divided into two parts: a visual assessment and a hands-on examination. Here is how each step is conducted.
Visual Assessment
When you're reclined in the dentist's chair, the professional will have a "bird's-eye-view." Thus, he or she can visually assess your face, neck, lips, inner nose and oral cavity for such indicators as asymmetrical formations, bumps, red or white spots and ulcerations.
Hands-on Examination
Then, your dentist will use tactile measures to probe your head and cheeks, jaw, chin and oral cavity for signs of any abnormal growths. If any of these symptoms are discovered, the professional may collect a blood sample so that further tests can be conducted.
Better Odds with Early Detection
When it comes to defeating any form of cancer, it's always better to catch it early than it is to wait to have it diagnosed and treated later on. Statistics show that when a more proactive stance is taken, the five-year survival rate is 75%, but when the cancerous cells have more time to grow, that number drops to only 20%.
The data doesn't lie; it's just better to take preventive measures. Then, you can rest assured that your oral and overall health are better protected.
While you're now better informed about the importance of visiting your local dentist semi-annually for a cleaning, check-up and an oral cancer screening, the knowledge you've acquired is only as effective as the action you take. So celebrate National Oral Cancer Awareness Month by reaching out to your dentist to schedule a visit today!
About the Author
A graduate of Marquette University School of Dentistry, Dr. Doug Clark has been providing high-quality dental care for over 30 years. A life-long learner, he has received advanced postgraduate training from the prestigious Las Vegas Institute for Advanced Dental Studies, and he regularly attends conferences and lectures that help to further expand his knowledge. Dr. Clark provides preventive care, and he conducts oral cancer screenings at Hill Avenue Dental. He can be reached for more information through his website.