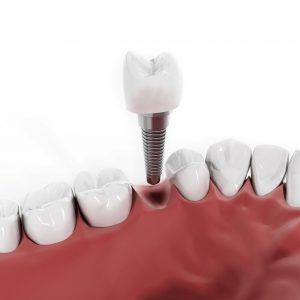 Despite your best efforts, are you living with missing teeth? Whether from decay, infection, or trauma, you have tried traditional treatments to replace your missing teeth, like a bridge and crown. Although you had high expectations to enjoy results that look and feel natural, they did not meet your expectations. Now, you can experience the next best thing to your natural teeth with dental implants. If you cannot find a qualified dentist in Duluth, it is worth the short drive for dental implants in Superior to invest in your smile.

What are Dental Implants?
Dental implants differ from conventional treatments because they replace both the root and the crown of your tooth. A biocompatible titanium implant post is surgically placed into your jawbone to act as a new root. This stimulates your bone to encourage new growth to allow the two to fuse to one another. This provides a stable foundation for your replacement tooth, which is connected via an abutment.
Why are Dental Implants Worth the Drive?
The unique process and materials used to replace your tooth allow them to be the most successful option to complete your smile. They provide over a 95% success rate for long-lasting results. You will also enjoy several other benefits that are not possible with other treatments, such as:
Predictable and reliable solution.
Look and feel natural.
Restore as much as 70% of your biting force.
Improves your jawbone's density.
Stops dental drift.
Improves your oral health.
Does not alter healthy teeth.
Protects your facial structures.
Cost-effective.
Lasts for several decades.
How Can I Get Started?
The long-term success of your new smile relies on the correct placement of your implant posts. To create the right foundation, you need the help of a qualified dentist. Although there are many excellent options in the areas for dental implants in Duluth, your best bet may be to travel to Superior.
You will enjoy the comprehensive consultation you need to assess the health of your jawbone while pinpointing the ideal location for your implant posts. A surgical procedure is necessary to place them into your jaw. Several weeks after your jawbone has healed, you need a second minor surgery to attach an abutment to each post. Your dentist takes an impression of your mouth to craft your restorations to look natural.
You can enjoy your favorite foods again without needing to worry about slipping or irritation. You can speak and smile with confidence knowing your new smile looks natural.
Invest in Your Smile Today!
Choosing dental implants is an excellent investment. Make the best choice for your smile by choosing a qualified and experienced dentist to handle your procedure.
About Dr. Doug Clark, Jr.
Dr. Doug Clark, Jr. is supported by over 30 years of experience in the dental field. He provides the latest techniques and treatments to improve his patients' quality of life. If you are living with tooth loss, he offers the qualifications you need to complete your smile. Contact Hill Avenue Dental today to schedule your consultation for dental implants.