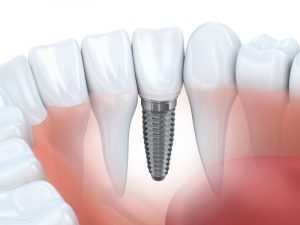 Tooth loss is hardly an issue worth ignoring. Not only is chewing and speaking more difficult, but your surrounding oral structures will begin to deteriorate as well. If you're considering tooth replacement, you have multiple options to consider. During your search, it is crucial that you understand how certain options offer more extensive restorative solutions than others, especially when you're comparing dental implants and other options like removable dentures and bridges.
According to some dentists, a dental implant in Superior is more ideal, especially if you're only replacing a single tooth. Here are three reasons why.
Dental Implants Restore the Entire Tooth
While there are many ways to replace the crown portion of teeth, dental implants are the only solution to replacing both the crown and the root of the tooth. The crown works to rebuild your smile and perform basic chewing functions, but the root works to stimulate the jaw and alveolar bone that surrounds the root. By replacing the root, dentists can prevent the alveolar bone from resorbing inside the body and traveling to other areas where it's needed. This allows for the strongest biting force possible, which is important if you care about being able to eat the foods you want.
Furthermore, root replacement allows for blood flow to the cheeks and face. If you've seen people with dentures, you've probably noticed that their cheeks appear hollow and their skin is sunken. This is because removable dentures and bridges don't provide the blood flow needed to maintain the natural elasticity and shape of the cheeks and face, while implants do.
A More Secure Foundation
If you have dentures, you've likely experienced the denture becoming loose or shifting around your mouth while in use. For many, this makes dentures extremely cumbersome to use, especially when eating, speaking, laughing or coughing, all actions that can cause the denture to slip or even fall out. Even if there are metal clasps to hold the denture in place, it can feel uncomfortable for some individuals.
When you have an implant integrated with your oral structures organically, there's no worry about the implant becoming loose. In fact, implants are more secure than natural teeth because they lack a periodontal ligament, which allows for minimal movement.
A Long-Term, Cost-Effective Solution
It's no secret that dental implants are an expensive treatment upfront. Despite their high costs, dental implants are still more cost-effective in the long-term compared to other solutions because of their longevity and durability. As long as you maintain oral hygiene and avoid all tobacco products, there's no reason that it can't last anywhere from 25 years to a lifetime. Dentures require replacement every 7 to 10 years and bridges require replacement every 10 to 15 years. With this in mind, you could potentially save thousands in the long-term on restorative treatments.
Got a question about dental implant treatment? Schedule an appointment with a dentist in Superior!
Meet the Practice
Hill Avenue Dental offers dental implant restorations for trying to replace single or multiple teeth. The dentists will make sure to create a restoration that meets your standards and blends in as naturally as possible. To learn more about the process, you can contact our office through our website.