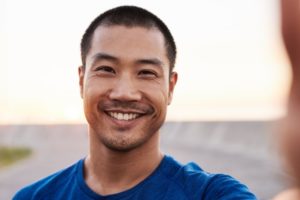 Summertime is a special time of the year. From memory-making vacations to family reunions, there are so many picture-perfect moments. However, if you feel self-conscious about your smile due to missing teeth, it can make you shy away from cameras or even freely interacting with others. The good news is there is no better time than now to restore your teeth with dental implants. Read on to learn why the summer is a wonderful time to brighten your smile with them.
#1. Smile with Confidence
Part of all the special times that come with summer, whether it's a trip to the beach or a neighborhood barbeque, is taking pictures or videos to capture the memory or post them online. However, having a gapped smile can make you feel less confident and less likely to engage in the fun around you. Dental implants not only restore your missing teeth from root to crown but your self-confidence! Since the restoration placed on top of your implants is made from dental porcelain, it closely resembles your natural teeth. Your new smile will be seamless and ready for the camera!
#2. You Have More Time in Your Schedule
The summer often gives people more flexibility with their schedules. Once it's over, there are many obligations to take care of, such as getting your children ready for the school year and beginning to prepare for the holidays. During the warmer months, you can make the most of your time and focus on rebuilding your smile. It will be easier to fit in visits to your dentist, as well as heal from the procedure.
#3. There are Plenty of Cool Treats to Help Your New Smile
Once your dental implants are placed, you will need to stick to a soft diet for a few days afterward. Fortunately, there is no lack of delicious and healthy options during the summertime. As your smile heals, you can soothe your mouth with smoothies, frozen yogurt, 100% fruit pops, and cold soups. This will not only be easy on your mouth but provide coolness to help with inflammation.
#4. Heal Just in Time for the Holidays
It can take several months to heal from the dental implant procedure. The summer is the best time to start your smile makeover because it encourages as much rest as possible. From lazy days by the pool or reading a book in the hammock, you can relax while you recuperate. Once the holidays hit, you will be ready to shine your smile for all the holiday sparkle!
About the Author
Dr. H. Douglas Clark III and his team at Hill Avenue Dental are eager to help you achieve the smile of your dreams. He earned his Doctor of Dental Surgery from Marquette University School of Dentistry and is an active member of several dental associations. With almost 20 years of experience and a 5-star rating on Google, he can help restore your teeth with dental implants in order to get summer-time ready! To schedule a consultation, contact him through his website or call (715) 392-5161.