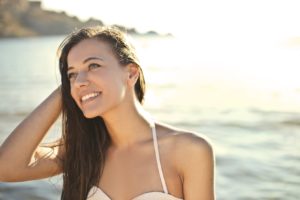 If you are embarrassed by the way your teeth look, don't spend another summer feeling less than your best. You can say goodbye to discoloration, chips, gaps, and other aesthetic flaws in as few as 2 appointments with porcelain veneers. You can enjoy dramatic, lasting results using a minimally invasive solution. Here's how veneers can get your smile beach-ready for summer.
Erase Imperfections with Veneers
A veneer is a customized restoration that's applied to the front side of a tooth to improve its color, size, and shape. When bonded to the teeth visible when smiling, veneers can resolve many imperfections simultaneously, including:
Tooth Discoloration and Stains
Chips and Cracks
Misshapen Teeth
Gaps Between Teeth
Short, Stubby Teeth
Although many patients can benefit from veneers, only a cosmetic dentist can determine if they're right for you. After examining your mouth and learning more about your goals, your cosmetic dentist will create a personalized strategy to revamp your pearly whites.
Benefit from Quick Results
After your initial consultation and preliminary procedures, you will be scheduled for your appointment. Your dentist will clean your teeth and may administer a local numbing agent to ensure you're comfortable.
They will lightly etch the surfaces of your teeth to remove a small amount of enamel, which is necessary to ensure your veneers sit flush to promote a strong bond. After your teeth have been prepped, your dentist will take an impression of your mouth and send it to the dental lab, where they will craft your veneers with the utmost precision for natural-looking results.
It can take the lab a couple of weeks, so you'll need temporary veneers while you wait. They not only protect your teeth, but they allow you to try on your new smile.
Once your permanent veneers have been sent back to your dentist, you'll return for your final appointment. Your temporary restorations are removed and your final veneers are bonded to your teeth.
Enjoy Long-Lasting Results
Veneers are designed to provide long-lasting results. Their average lifespan is about 10 years, but it's not unusual for them to last for much longer with the right aftercare, like brushing and flossing. You can get the most from your investment by breaking any bad habits that can damage your veneers, like chewing on your fingernails or inedible objects.
Besides caring for your new smile at home, don't forget to visit your dentist every 6 months for a cleaning and checkup. In just a couple of weeks, you can have a picture-perfect smile that you'll be proud to show off this summer.
About Dr. Douglas Clark III
Dr. Clark earned his dental degree from the Marquette University School of Dentistry and has regularly pursued continuing education to provide advanced services, like cosmetic dentistry. He is a member of several professional organizations, including the American Academy of Cosmetic Dentistry. If you're ready to revamp your smile, request an appointment through our website or call (715) 392-5161.