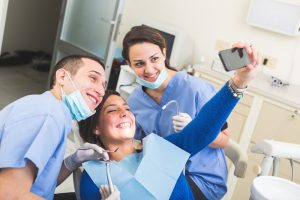 Your feelings about going to the dentist may range from thinking of it as something of a chore to really, really not wanting to go. There's no way anyone could enjoy going to the dentist, right? Wrong. If you have not ever managed to find a dental home to visit, a place where you actually look forward to going, it's because you have never checked out Hill Avenue Dental. In fact, our patients notice the difference beginning with their very first appointment. Keep reading to learn more about what you can expect at this initial appointment to your dentist in Superior.
One-on-One Attention
At Hill Avenue Dental, you will never feel like just another patient. We always make plenty of time for your visit — especially when it is your first trip to our office. During this initial visit, we will block off a longer appointment to get the chance to sit down and get to know you and your smile. We will discuss what your smile goals are, or what you hope to achieve by partnering with our team. Is it routine maintenance, or do you have significant smile damage you would like to improve? Whatever you have in mind, we can help with high-quality comprehensive dental care.
Your Comfort Is Our Priority
Many people dread visiting the dentist because they are afraid it will be an uncomfortable or even painful experience. We work to avoid this every step of the way — by investing in state-of-the-art tools and taking a careful, measured approach to your dental care. Plus, we have worked hard to create an environment where you can feel completely relaxed and at ease. You will notice there's no reason to stress at Hill Avenue Dental right when you step through the door!
All Your Smile Needs: Cared for
During a first appointment, we will carefully evaluate your teeth, gums, and all surrounding oral structures and then use this information to put you on a plan to achieve or maintain lasting oral health and wellness. With comprehensive services in general, preventive, restorative, and even cosmetic dentistry, we can seriously help your smile dreams come true. And the same goes for everyone in your family, as our doctors and staff warmly welcome patients of all ages!
To sum up, your first appointment at Hill Avenue Dental is your chance to see just how wonderful visiting a professional and friendly dental team can really be. We will schedule plenty of time to answer all of your questions and ensure that you leave feeling great about your new path to achieving your beautiful and healthy smile. Don't wait to contact us to book an appointment today! We're truly the "dentist near me" you have been searching for.
Meet the Practice
Hill Avenue Dental offers comprehensive dental care for patients of all ages. All of their treatment plans are firmly grounded in preventive care — and now is as great a time as any for a checkup and cleaning! To book yours, take a moment to get in touch by calling the office at (715) 392-5161.