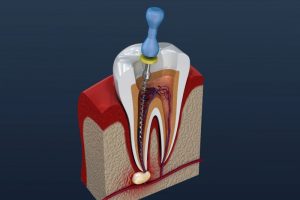 Did you just learn that you need a root canal? Are you scared, unsure, and completely unprepared? Don't worry! While it's natural to be a bit uneasy about an upcoming procedure, root canals don't deserve the bad reputation they've received over the years. This is because there is a misconception that they cause an immense amount of pain. Guess what? It's not true at all! In fact, root canals are designed to eliminate the pain caused by the infection in your tooth! To learn more about this common procedure, let a dentist in Superior explain just how effective root canals can be.
Why Are Root Canals Necessary?
If you have a tooth that has plaque on it for far too long, the harmful bacteria will begin to break down the enamel of your tooth, causing it to become extremely sensitive. If this sensitivity lasts for an extended period of time and becomes painful while biting down, your dentist may suggest a root canal.
Root canals are designed to fix a damaged tooth so that it doesn't have to be extracted. If decay or damage has reached the interior of your tooth, you can expect to begin preparations for a root canal.
Other ways your dentist can tell if you need this type of procedure is if you develop:
Bumps on the gums near affected tooth (look like pimples)
Discoloration of the affected tooth
Extreme tooth pain
What Happens During a Procedure?
Your dentist will create a small opening and remove the infected tissue from the interior of your tooth. Once the area is reshaped, your dentist will replace the interior of the tooth with a biocompatible material called "gutta percha."
You can expect a root canal to be completed in two visits. This is because your tooth will need to heal from the procedure before the final restoration is placed. Once you return for your second appointment, your dentist will have a customized dental crown ready to place over your tooth.
Performed by dentists and endodontists, root canal therapy is a common dental treatment that is designed to shape and clean the inner parts of your teeth. Unfortunately, root canals have gained a bad reputation because people believe they are painful procedures. They're intended to eliminate pain caused by infections in your teeth.
What Are the Benefits to Having a Root Canal?
While the misconception is that root canals are painful, you should know that they are not. The pain you feel is from the infection, not the procedure itself. So, if eliminating pain isn't enough to put you at ease for your root canal, here are some added benefits to this procedure:
The procedure is simple, and you'll experience only minimal discomfort.
Anesthesia is administered to keep you comfortable throughout the procedure.
A root canal relieves the pain that is brought on by an infected tooth.
Root canals enable you to keep your natural tooth instead of facing an extraction.
What Can Happen if I Don't Get a Root Canal?
If your dentist suggests a root canal, but you opt to leave it untreated, you can expect the following to happen:
Your tooth may crack or break, which will lead to a necessary extraction.
The infection can spread to other teeth, damaging them and resulting in removal.
You'll experience continued pain, which will negatively impact your immune system, as it will make it much more difficult to eat.
The infection can spread throughout your body.
Stop listening to people just trying to scare you. Root canals are valuable and beneficial procedures that can take away the pain you're feeling. Talk to your dentist today about the procedure and any questions you may have.
About the Author
Dr. Doug Clark, Jr., DDS, received his dental degree from Marquette University School of Dentistry before pursuing advanced training at The Las Vegas Institute for Advanced Dental Studies. He Dr. H. Douglas Clark III, DDS, understand going to the dentist can be difficult for many patients, especially those preparing for a root canal. Our team is dedicated to ensuring your comfort during any procedure. This way, you can rest assured knowing your smile is in the best of hands with our dentists. To learn more about our team, contact us via our website or by calling (715) 392-5161.