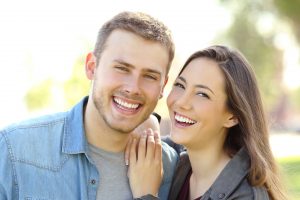 Are you tired of hiding behind an imperfect smile? Your first step to getting the smile of your dreams is to schedule a consultation with a cosmetic dentist in Superior. We know it can be difficult to find a qualified dentist in your community who meets your expectations, but you are not out of options. Hill Avenue Dental is worth the drive for patients living in Duluth and beyond. We provide the world-class care you deserve to transform your teeth.

4 Reasons to Choose Hill Avenue Dental
Not all dentists are equal, and not all can produce the results you want. Therefore, you cannot choose just any dentist. You need someone who specializes in the field to produce natural-looking results.  If you cannot find the perfect cosmetic dentist in Duluth to create your flawless smile, here are 4 reasons Hill Avenue Dental is worth the drive.
Experience & Qualifications
Cosmetic dentistry requires a certain art to combine aesthetics with superior techniques. This only comes with years of experience and qualifications in cosmetic services. Our team at Hill Avenue Dental has the expertise you can trust.
Dr. Clark is supported by over 30 years of experience, which includes advanced training at the prestigious Las Vegas Institute for Advanced Dental Studies. Working along his side is Dr. Clark III, who remains current it the latest treatments to deliver stunning results.
Advanced Technology
The services you receive from your dentist are continuously enhanced using the latest technological advancements. Hill Avenue Dental provides modern dentistry to provide the highest standard of care. Our office embraces the latest innovations to improve your comfort and streamline the treatment process. You will enjoy improved accuracy for more effective procedures that look and feel natural.
Diverse Services
Investing in cosmetic dentistry is a big decision, so it is important to know all your options when improving your teeth. You need a dentist who offers a variety of services to help you achieve your picture-perfect smile.
Hill Avenue Dental offers several solutions to improve the color, size, shape, or proportion of your teeth. We perform a compressive consultation to assess your smile while also discussing your preferences to create a customized treatment plan, which can include teeth whitening, porcelain veneers, tooth-colored fillings, or cosmetic bonding.
Personalized Services
We want to help you feel confident through a beautiful smile. We take the time to get to know you and address your concerns to create a strategy that truly caters to your needs. You will not have to choose from a cookie-cutter treatment plan. We strive to provide individualized solutions because we want you to love your smile.
Benefit from the Best!
You should not need to settle for anything less than the best when it comes to your dental care. Choose a dentist who is worth the drive with Hill Avenue Dental.
About Hill Avenue Dental
Hill Avenue Dental uses the latest technologies to create generations of beautiful smiles. Besides general dentistry, we also offer specialty services, like cosmetic dentistry. If you are ready to revamp your teeth, contact our office today to schedule a consultation.